A Multi-Language US QWERTY Keyboard Layout
The keyboard that will allow you to type accents, cedillas and much more... !!!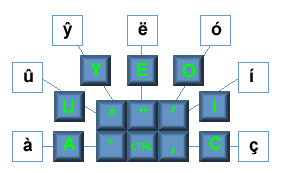 And then read the
What is it ?
It is a software that extends your QWERTY US keyboard without modifying it. It makes easy for you to enter text in your own language in any windows application: French, Spanish, Polish, Hungarian, Romanian, etc. while using a traditional US QWERTY Keyboard.
This software is great because it's:
Complete: It allows the user to reach easily more than 1000 different Unicode characters.
Easy to use: All characters can be reached easily and in the most intuitive and ergonomic way.
Compatible: Absolutely no existing QWERTY key behavior is modified.